advocacy through lived experiences
change the perspective. change the system
my story
As a person of color who has experienced the legal system from the perspective of the incarcerated while also struggling with mental illness, I understand that advocacy for clients and system change at all levels of legislature is imperative. As such, I have dedicated more than a decade of my life to educating communities and uplifting the voices of those directly affected by mental health into spaces where they are not normally heard but are critically needed. I use hope and humor to bring a new perspective into a system knowing that things can get better, and
lives can be saved.

You are not alone in this battle for equity and change.
This isn't just work; this is passion, mission, and life.
Advocating
Changing laws. Changing systems. To make the world a better place for people with mental health conditions.
Presenting
Keynotes, virtual and in-person presentations. Supported and driven by personal stories and visuals, they are uniquely engaging and powerful experiences.
Consulting
Customized workshops and training programs to develop or grow educational, stigma-reduction, professional development, and wellness programs.
Writing
Often light hearted and focusing on turning the conversation surrounding mental health into less-dire, but still important directions for deeper understanding, connection, and empathy.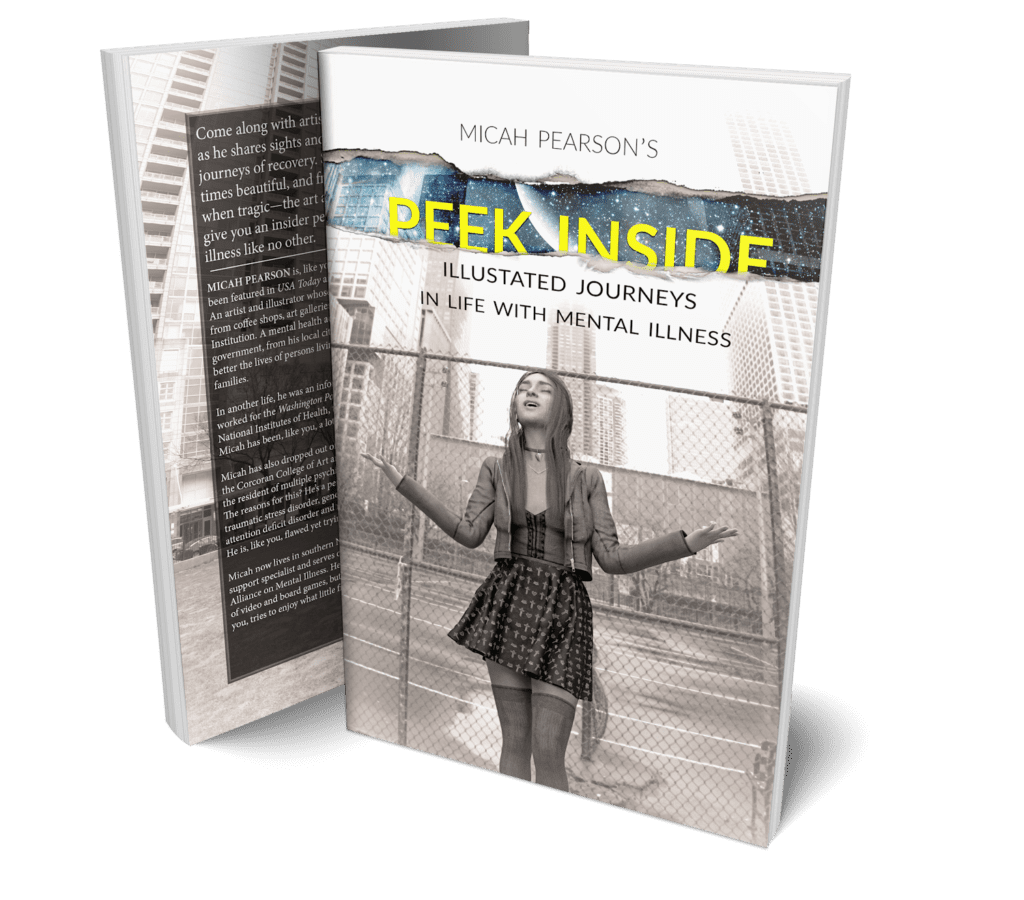 Peek Inside: Illustrated Journeys in Life with Mental Illness
Come along with artist and storyteller Micah Pearson as he shares sights and visions from his and others' journeys of recovery. Sometimes haunting, other times beautiful, and frequently hilariously funny even when tragic–the art and stories shared will give you an insider perspective on living with mental illness like no other.
Kimmie
"Micah is a dynamic and engaging speaker able to connect with his audience on many different levels through his raw vulnerability and authenticity. His ability to destigmatize mental health shows that recovery is possible through sharing his lived experiences in meaningful and powerful ways."
Kimmie Jordan CPRP, LMFT, LADAC, NCG
Understanding-Anonymous
"Seeing this side of things...has allowed me to see the importance of being understanding and not judgemental. To provide support, not criticism"
Andrew
"Micah is an experienced, enthusiastic and engaging presenter; knowledgeable in many topics and relate them to his audience."
Andrew Parrish, President PSRANM
Paintings
"Micah's paintings are such a great way to tell these stories!"
Peek Inside presentation attendee
Change takes teamwork. So reach out and let's see what we can accomplish together.